If you are looking for the best fish finder, you should know about the down imaging and side imaging technologies that provide more realistic images of undersea surroundings. You should have the knowledge about how down imaging or side imaging works. Otherwise, these technologies have no use for your fishfinder.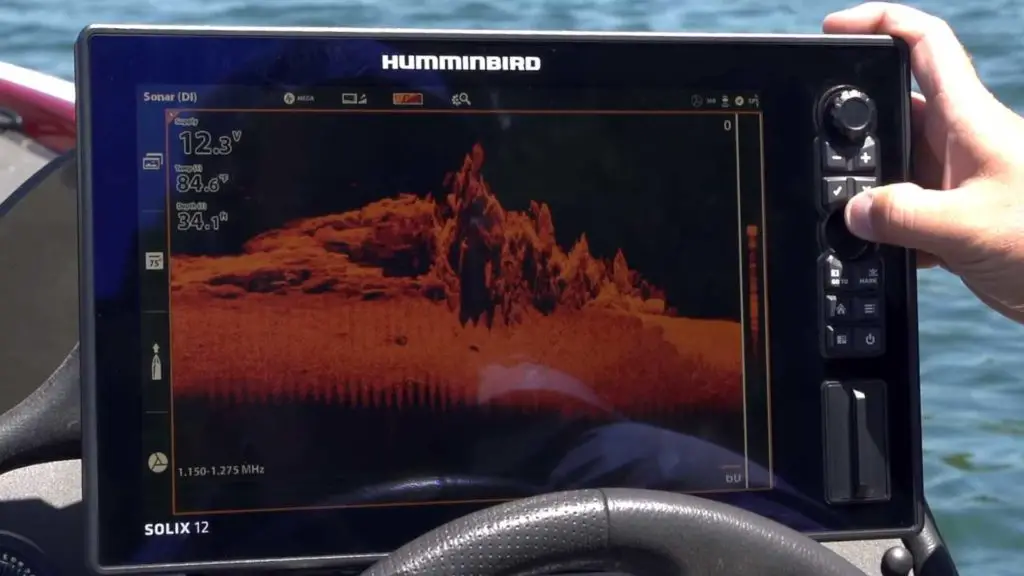 Down imaging and side imaging are comparatively new in the market that works with SONAR. High-frequency SONAR waves are used in providing crystal-clear images and detailed information underneath your boat. Usually, most of the available transducers work at 50/83/200 kHz. But down imaging and side imaging transducers have higher frequency like 455 kHz or 800 kHz.
In this write-up, we will focus on down imaging vs. side imaging to understand which one is better for successful fish finding. We will try to cover all the essential information about down imaging and side imaging, including their advantages and disadvantages. So do not miss a word.
What is down imaging?
Down imaging helps the anglers to get more real-time images of the objects which are under the boat. It allows you to have detailed information about the underwater structures. Down imaging technology works with the help of SONAR waves, and when the waves return back, the more explicit images are displayed on the fish finder screen.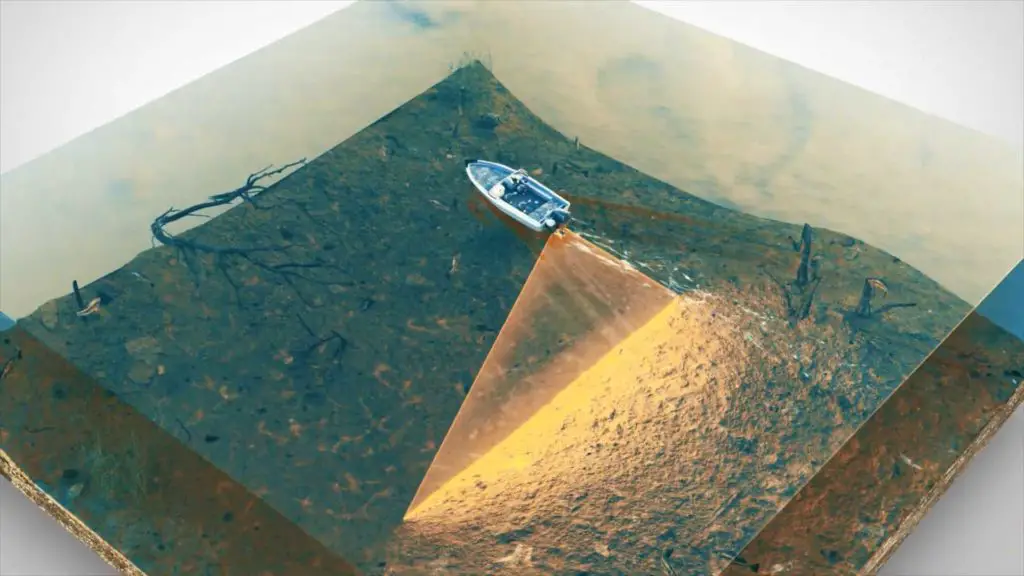 It is a registered term used by Humminbird, while Lowrance refers to it as DownScan imaging and Garmin as DownVü. 
Down imaging transducer works at 800 kHz (45°) and 455 kHz (55°). It operates appropriately in shallow water too. You will get the sharpest picture resolution with an 800kHz beam, while a 455 kHz beam is appropriate for maximum picture quality and depth.
What is side imaging?
Side imaging is an advanced technology that makes your fishing easier. Side imaging transducers release sound waves that actually cover both sides of your vessel. 
Unlike down imaging, it is more powerful to cover a large area underwater. If you use a side imaging fish finder, you can quickly get the accurate information about the bottom structure and contour.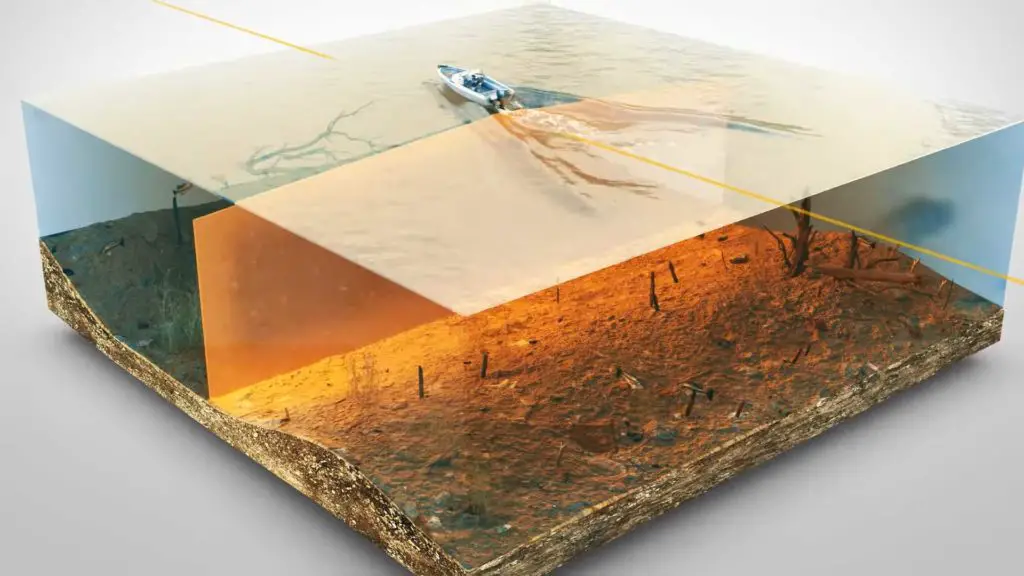 With side imaging technology, you can have the most appropriate view of the objects underwater because it works with 3D SONAR. It also provides the specific images of the underwater objects and makes sure you get the exact reading without any confusion. Side imaging allows you to view which objects are on the left and which are on the right instead of the overall information.
What are these imaging used for?
Before talking about down imaging vs. side imaging, let us discuss their working and get all the details about it. Let's start with down imaging.
Down imaging can improve the style of your fishing and ensures you can catch more fish efficiently. Down imaging operates with the support of a high-frequency beam that provides real-time images of the underwater structures, objects, and fish. It works in a traditional way, and the most recent information is displayed on the right corner of your fishing screen. Down imaging works with the SONAR transducer that helps you to find fish easily. 
With the help of down imaging technology, you can between cover and structure so that you can locate fish in a specific area without much effort.
You are allowed to have a magnifying view of the underwater objects with side imaging. Side imaging comes up with a bottom profile, water column, flat terrain, and some other features which are essential to understand the bottom surface underneath your boat. 
It can detect rock, crevices, and other objects efficiently. Also, the razor-thin beam is used to capture the images of underwater objects up to 400 feet depth, and it covers both the right and left side. Besides vegetations, it can identify the weed beds and help you to determine the fish as well with detailed information. Therefore, you can target an individual fish easily.
Advantages and disadvantages of down imaging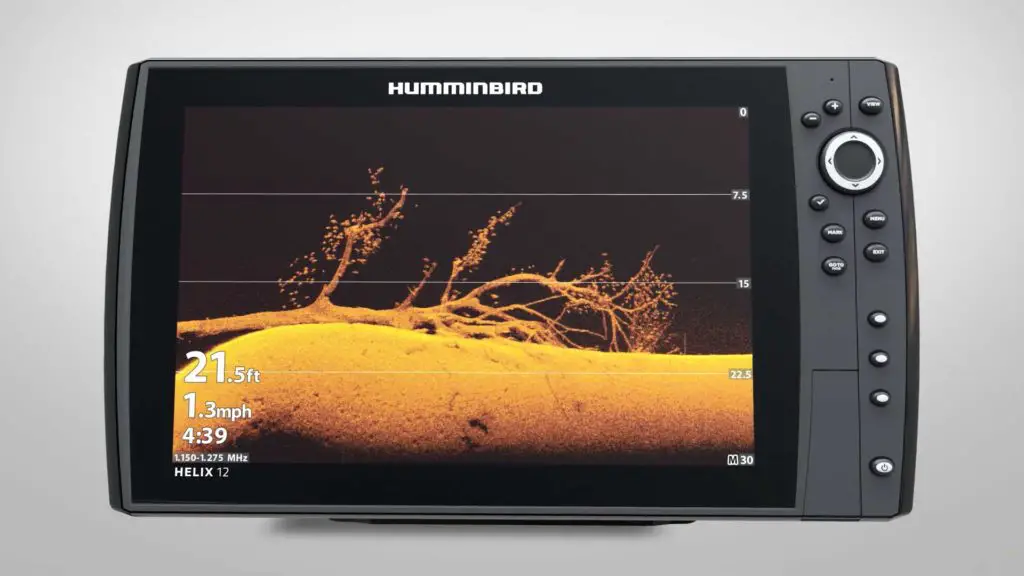 Advantages
1. Down imaging transducers are used to find fish in deep water. Most of the time, fish are found vertically. So, using a down imaging fish finder makes it easy to locate the fish.
2. If you look for the best kayak fish finder, you will see that it is designed with down imaging technology. It is easier to catch fish from the kayak with the help of down imaging scanners because it can provide more explicit images even at high speed. In the case of down imaging vs. sonar, the previous one is appropriate for high speed.
3. The detailed images produced by down imaging provide you with the most accurate information about underwater surroundings. Therefore, you can identify the baitfish and the most appropriate fishing location effectively.
4. Apart from fishing, this high-frequency SONAR can go deeper to find submerged things.
Disadvantages
1. Usually, the images produced by down imaging transducers have low resolution. It happens because down imaging works with one sensor, and the computer does not get enough information from it.
2. Since down imaging is suitable for vertical images, it does not allow you to have enough horizontal information. You need side imaging technology for side-by-side information. With this down imaging fish finder, you can detect a school of fish in deep water, but you will not have the exact information on which side they are under your boat.
Advantages and disadvantages of Side Imaging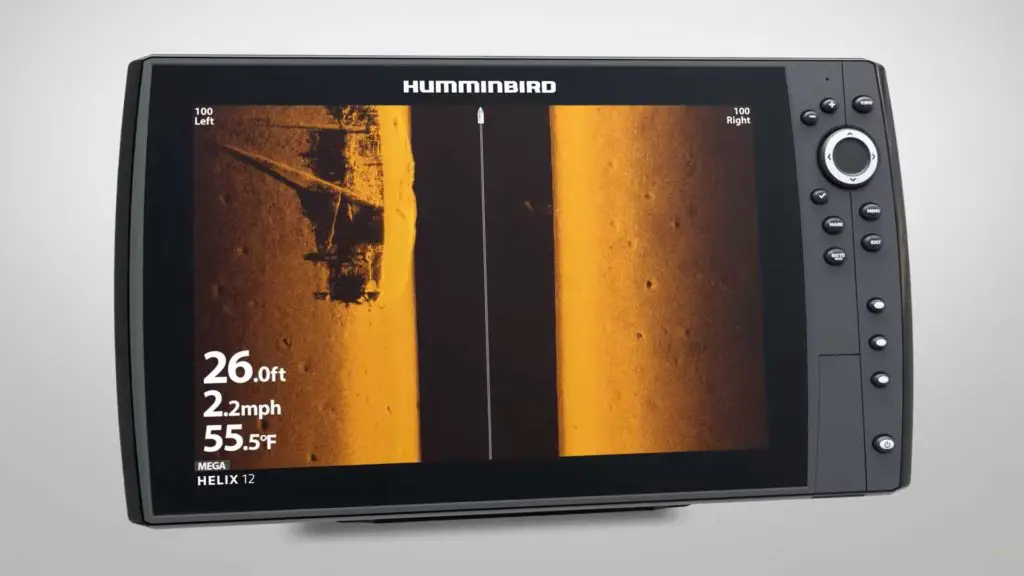 Advantages
1. The best GPS fish finder uses this side imaging technology to cover a larger fishing area side-by-side. It helps you to scan more areas in less time. Side imaging scanners can detect fish both on your left and right side effectively.
2. Side imaging can produce better underwater images with excellent quality. It has a better point of view compared to down imaging.
3. If you are fishing in shallow water, side imaging will be the best option for you. The down imaging is all about the vertical view. But when it comes to finding fish in shallow bays and creeks, side imaging provides you the maximum image quality. Sometimes, the anglers are likely to switch to side imaging when they want to catch fish in shallow water.
Disadvantages
1. The major drawback of this side imaging finders is they are highly expensive
2. So, in the case of down imaging vs. side imaging, many anglers are not able to have side imaging because of their tight budget. Though it is worthy of your money, it is not so pocket friendly.
3. If you want to know any specific information about what is going on under your boat, side imaging may not help you much. So, for more defined pictures of the underwater surroundings, you will need a down imaging fish finder.
4. Side imaging can work well when your boat is traveling at a slower speed. However, it is not appropriate for high speed, and you may find it challenging to reach a location when traveling at high speed. Though it can cover a larger area at a given point in time, it is useful to locate the fish efficiently.
Which one is better? Side imaging vs. down imaging
Now that we have already talked about the advantages and disadvantages of side imaging and down imaging, this is the time to understand which one works better. 
When it comes to down imaging vs. side imaging, both of them have some powerful features that are important for detecting a school of fish quickly. Both the side imaging and down imaging use SONAR frequency, which is entirely accurate. 
Down imaging produces detailed images of the underwater surroundings with high frequency. On the other hand, side imaging SONAR is used to get the information on the left and right sides of your boat. 
So, it is really a difficult task to pick up one of these SONAR types and which is better than the other one. It is better to take your decision according to your requirements and applications. First decide what you are looking for from your fish finder and then select the type of SONAR you need.
As we have said before, side imaging scanners are suitable for shallow water fishing. It helps to detect shallow diving fish. But the down imaging scanners are used in finding fish in the deeper water body. In the case of down imaging vs. side imaging walleye, down imaging supports the anglers to catch fish vertically in the best possible way. Side imaging can provide images of the side area of your vessels, and it covers a larger fishing area. Though it is not able to go far under the water like down imaging range, it produces more explicit images of specific fish.
With this note, it is essential to mention that some of the manufacturers have designed their fish finders with both down imaging and side imaging SONAR. Therefore, you do not have to think much about downscan vs. sonar. Moreover, there are some units that enable you to use both of them at the same time for a better fishing experience. You can have a look at the best fish finder app to select your fishfinder suitable for your applications.
Best fish finders for down/side imaging
In this section, we will show you some of the best fish finders down imaging vs. side imaging used by the anglers for a better fishing game. So, check this out:
1. Humminbird Piranhamax 4 DI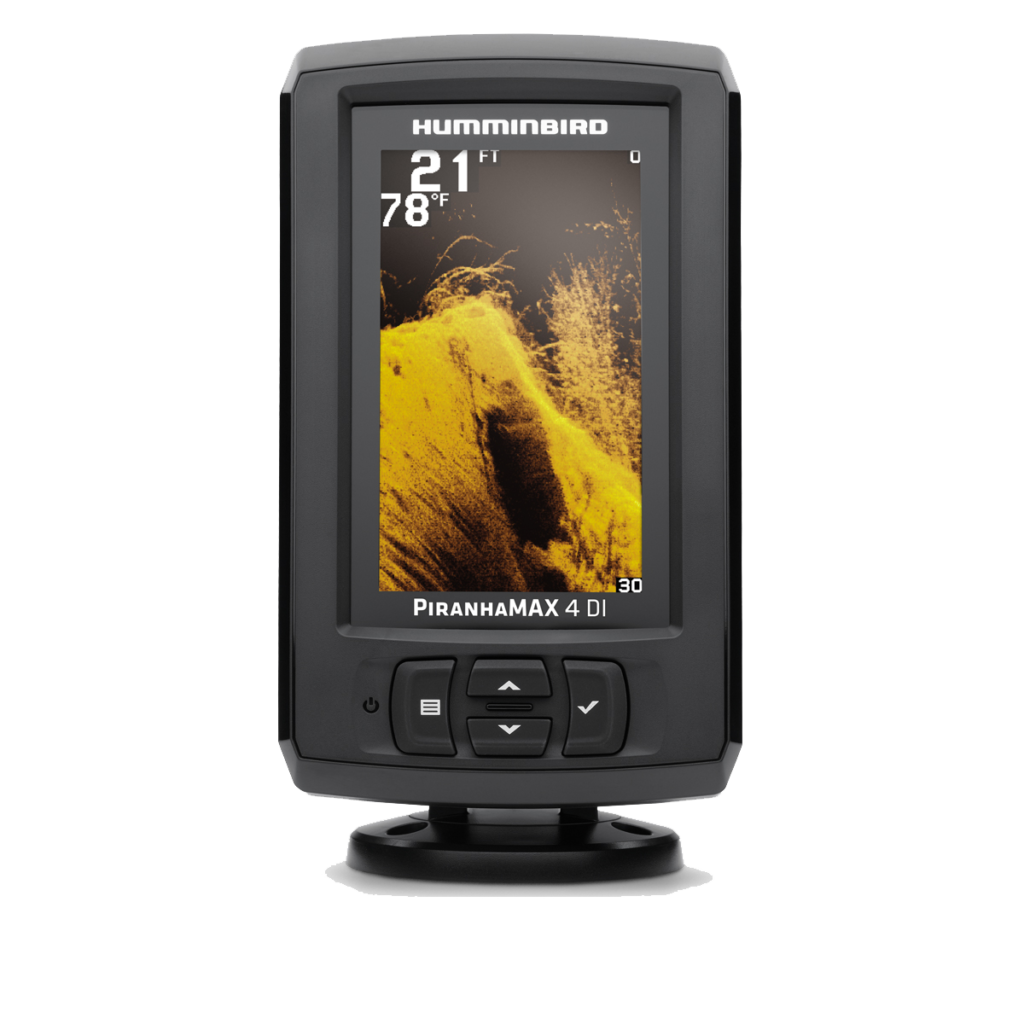 As the name suggests, this fish finder has sharper teeth and sharper images. Humminbird Piranhamax 4 DI ensures that you get a clearer picture of the objects directly under your vessel. 
It has a 4.3″ diagonal LCD 256 color display. The sonar frequency of this fish finder is 200/455kHz. Apart from the 272H x 480V picture matrix, it has some excellent features like Fish ID+, fish alarms, etc.
It works with dual-beam SONAR that provides detailed information about the underwater structures, and it also covers a larger area. Therefore, it is easy for the anglers to identify the fish, objects, and contour quickly.
This is the very best Humminbird fish finder that is available with a tilt and swivels mount feature, which allows you to adjust your viewing angle quickly.
With the down imaging SONAR, it provides accurate information about the objects directly under your boat.
i already wrote a detailed review about Humminbird Piranhamax 4 DI.
2. Garmin Echomap Plus 73SV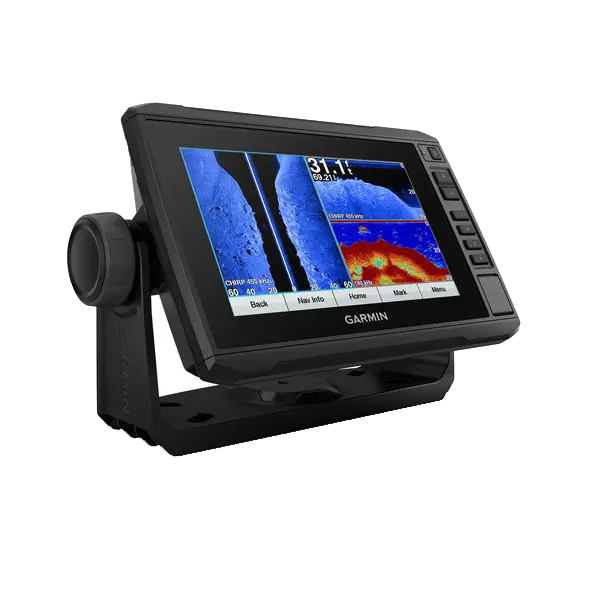 This is the best fish finder with a map introduced by Garmin that comes up with a 7″ bright, sunlight-readable keyed touchscreen combo. 
It is compatible with GT52 transducer, which includes CHIRP traditional SONAR plus, CHIRP ClaerVü, and CHIRP SideVü scanning SONAR. 
Also, it works well with Panoptix, all-seeing SONAR. It is loaded with a 17000+ lakes map, and Quickdraw mapping software allows you to customize your fishing map on the screen with 1′ contour while fishing. 
This fish finder has an in-built WiFi so that you can easily connect with the free ActiveCaptain app for better information. It is also available with Transoms and Trolling motor mounts.
3. Lowrance Elite 7 Ti Fish Finder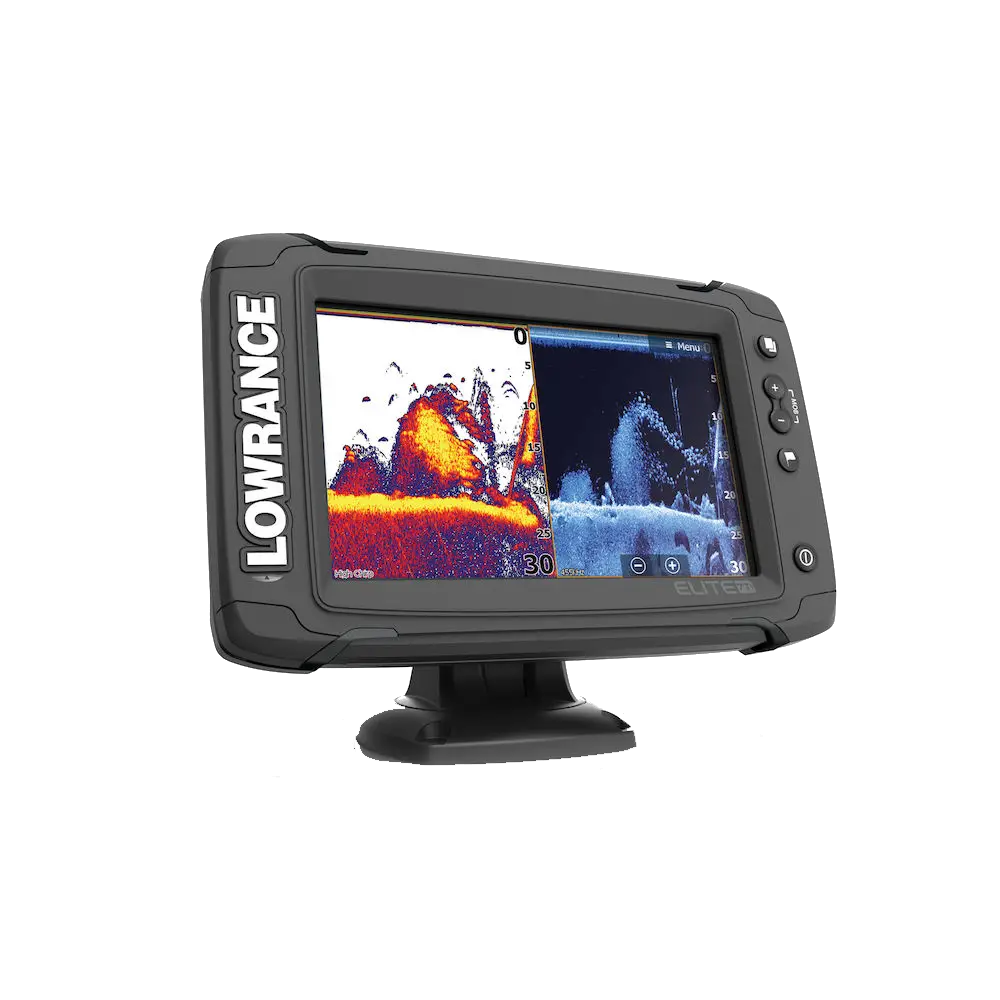 In the case of Humminbird down imaging vs. Lowrance downscan, this fish finder gives extra points to the Lowrance fishfinder. 
This product is available with a touchscreen display that allows you to control and navigate the fish finder just with your touch. It also has advanced Bluetooth connectivity that works with the support of PowerPoles, and you can pair with WIFI for upgrading the features. 
A single transducer is used to mount on the transom of the boat. So it is actually effortless to set up. TotalScan transducer provides Lowrance down imaging, and SideScan SONAR works for side viewing. 
It covers all the inland and coastal maps of the US and Canada. The best GPS plotter available with this fish finder helps you to count waypoints and navigate. You are allowed to add a third-party map to this fish finder, and all the features are wholly upgradable
4. Raymarine Axiom 7 Fish Finder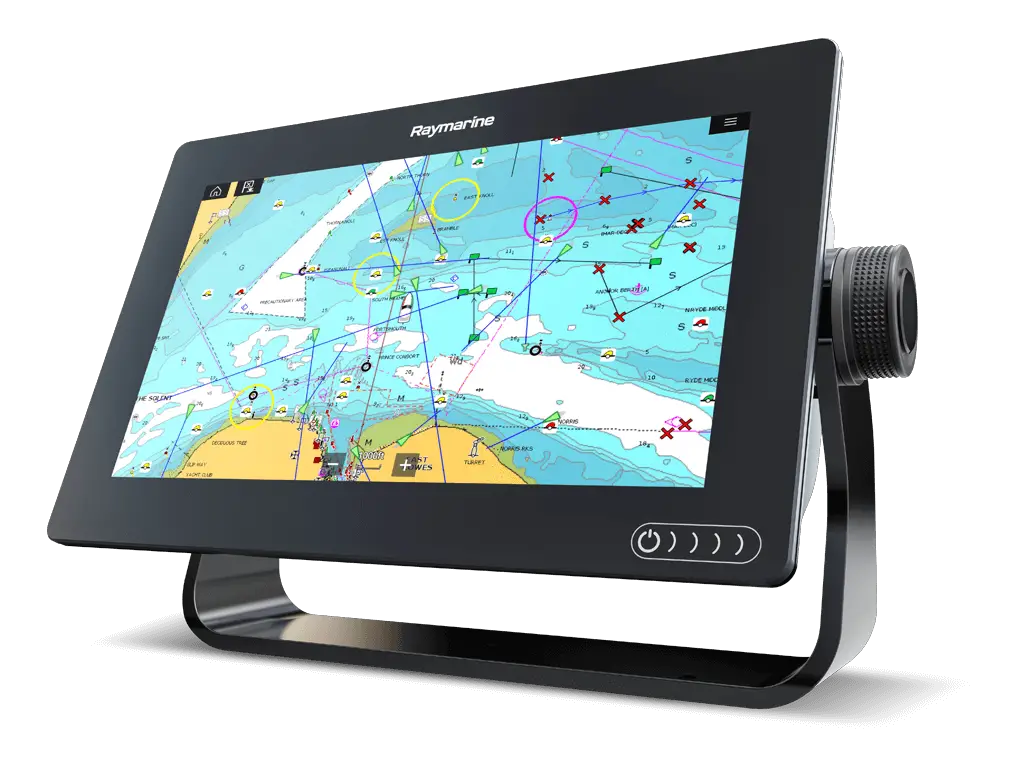 This is one of the most powerful fish finders available with Raymarine. It is designed with RealVision 3D SONAR that ensures more real-time images to find fish easily. 
It is compatible with CHIRP DownVision, SideVision, and high-frequency CHIRP transducer. It has 20000+ lake maps of the US and Canada. 
You are also allowed to create your new map with the help of SonarChart Live, and you can see it on the display while navigating. Like other Axiom models, this model also has in-built WiFi. 
The Navionics map can be used to transfer routes and markers. It also has the Dock to Dock auto-routing facility.
It works with Lighthouse 3 Operating System, which is easy to learn. You can easily customize the interface to change the navigation style. The quad-core processor ensures instant response, and you are able to use multiple applications at the same time. Gyro stabilization is useful to adjust boat movement.
5. Simrad NSS 12 Evo 3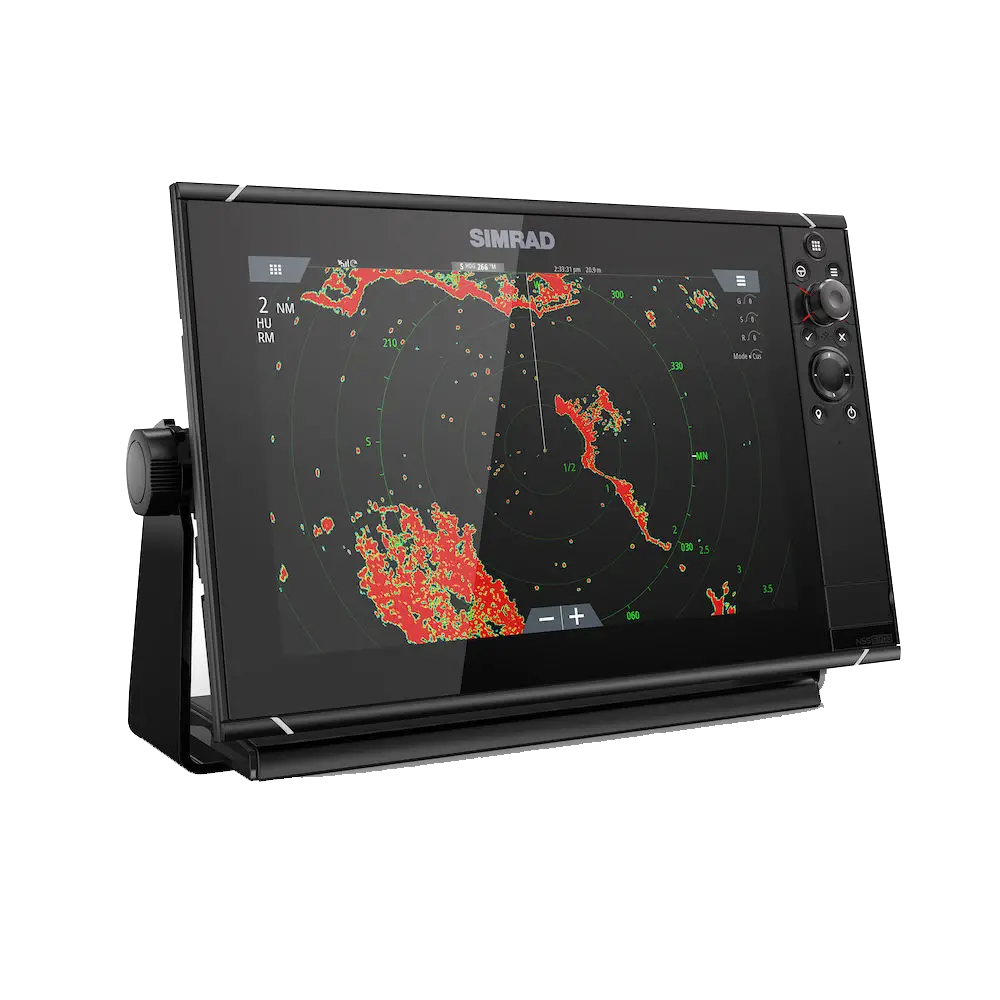 This awesome fish finder is designed with a Chartplotter facility which has an in-built GPS receiver. It makes sure that you do not need any external antenna. Moreover, you can quickly point your route to your destination for future use. 
It is also available with an internal Echosounder that is appropriate for sportfishing and cruising activities. You just need to add the SONAR transducer according to your choice. 
You can get real-time images with StructureScan HD imaging. On the other hand, ForwardScan sonar helps you to have a better cruising experience provided clear pictures of underwater structures. CHIRP SONAR enhances the performance of this fish finder. Dual-channel CHIRP transducers can cover a more in-depth range underwater.
This fish finder is compatible with both iOS and Android devices. You can see the chart, radar, sonar easily to decide your next fishing destination. You can update the software effortlessly with the support of wireless connectivity so that you can access the newest features and accessories. 
The best thing about this fish finder is it can provide the best situational awareness with Broadband 4G Radar.
Frequently Asked Questions
Q. Is the side imaging fish finder good on trolling motors?
A. You can try using a side imaging fish finder on a trolling motor for an experiment. It will let you detect fish while moving at Zero mph speed. You can increase the speed up to 3 mph to have a better structure. 
Q. Which one is better for Kayak fishing – down imaging vs. side imaging?
A. In the case of kayak fishing, you may find side imaging a little expensive, but it is available with better depth finders that allow the anglers to locate and detect a broader range. Side imaging helps you to find a larger area, and you can view the underwater surroundings easily. 
Q. Is down imaging useful for crappie?
A. Side imaging provides you more realistic information about the underwater surroundings side-by-side. However, down imaging is more suitable for crappie because it gives detailed information directly underneath your boat. 
Q. What is the functioning of a portable fish finder?
A. If you have the best portable fish finder, it will provide the most appropriate reading about the location of the fish. Besides, you are able to detect the temperature of the water around your fishing area. Usually, the portable fish finders are compatible with iOS and Android, and they are perfect for fishing inshore, ice, river, etc. It totally works in both salty and freshwater. 
Q. What will happen if I turn on the fish finder out of water?
A. It is not a good idea to turn on your fish finder out of the water. If you do it on a low power back sounder, it will be okay, but on a 1kW system, the transducer can be completely destroyed for excessive heat.
Q. Can I see sharks on the fish finder?
A. No, there is hardly any chance that a shark can show up on your fishfinder. You can see the images on the screen when the SONAR waves encounter the gas released from the swim bladder of a fish. So, sharks, jellyfish can not be displayed on the screen.
Q. Is it good to use fish finders from the shore?
A. You may find a school of fish swimming near the shoreline. Though it is a little challenging to find them with naked eyes, you must look for the swimming channels to locate the fish quickly.
Conclusion
So, throughout this article, we have tried to discuss different aspects of down imaging and side imaging. When it comes to down imaging vs. side imaging, it will actually be tough to take one side.
Both of them have their own advantages and drawbacks. So, all you need to do is to understand the application and requirements of your fishing. You can also follow the side imaging tips to get better knowledge about side imaging scanners. The same goes for the down imaging.
You can not choose one sonar over another. So you must consider the situation when you are going to use fish finders. Like if you are fishing in deep water, you can go for deep imaging, but for shallow water fishing, it is better to choose side imaging. We have mentioned all the advantages and disadvantages in detail so that you do not get confused while choosing your fishfinder. 
Side imaging fish finder is more expensive than down imaging. If you have a tight budget, you should buy-down imaging. However, we have also discussed some of the topmost fish finders where you can access both down imaging and side imaging. So make a wise decision and have enjoyable fishing experience.