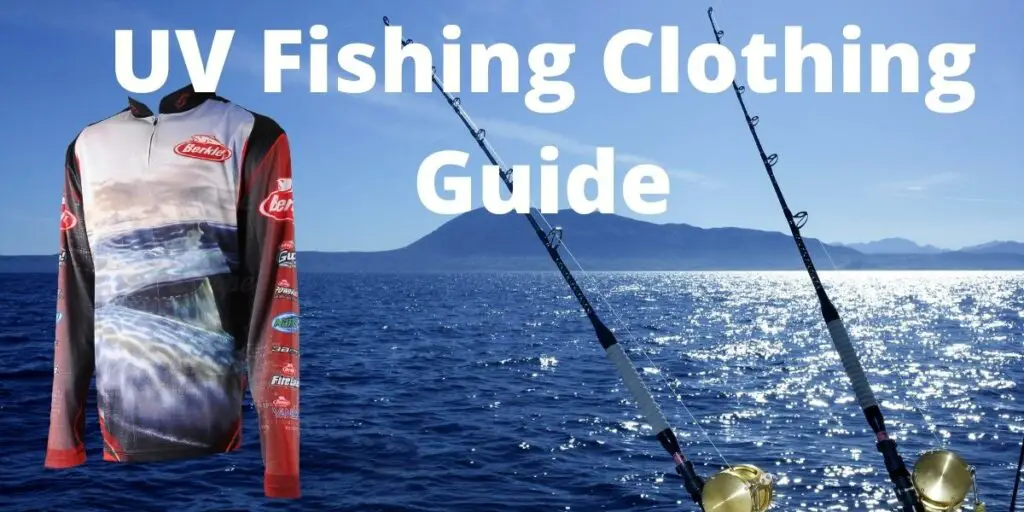 Exposure to direct sunlight while fishing requires more thought on clothes you wear than any other outdoor activity.
That's because keeping out of the sun is difficult whether you're out on a big fishing boat or a small kayak.
Apart from the direct sunlight, the waters also reflect the sun's rays on you, robbing you of comfort even further.
As a result, finding an ideal protective gear remains the only viable solution to averting the dangers associated with excessive exposure to the sun.
Fortunately, fishing shirts are available that'll keep you cool, safe, and fashionable for as long as you'll be on the waters.
Such fishing shirts offer more benefits beyond protecting your body from direct sunlight.
The article will discuss all you need to know about UV rays on your skin, the benefits of wearing UV fishing shirts, and choosing a UV fishing shirt.
Product prices and availability are accurate as of the date/time indicated and are subject to change. Any price and availability information displayed on [relevant Amazon Site(s), as applicable] at the time of purchase will apply to the purchase of this product.
Prices pulled from the Amazon Product Advertising API on:
Understanding UPF Ratings
UPF is short for Ultraviolet Protection Factor. It's the standard for measuring the effectiveness of sun protective fabrics.
UPF approved fabric protects UVA and UVB (Ultraviolet B), unlike SPF or Sun Protector Factor solely meant for protecting against UVB.
UPF approved fishing shirts are woven using polyester or nylon fabric, leaving tiny holes visible through a microscope.
The shirts are highly breathable and unhindered compared to the materials such as cotton or hemp.
Experts advise that you aim for a UPF rating of at least 30 or more.
The best UV fishing shirt should have a UPF rating of 50.
That means your skin enjoys up to 98 percent protection from sunburn.
Benefits of Wearing a UV Fishing Shirt
Minimizes Skin Cancer Risks
According to Skin Cancer Foundation on cancer facts and statistics, at least one out of five Americans suffer skin cancer when they hit 70.
Full-time anglers are more exposed to skin cancer risk than the average person.
Many people tend to overlook the effects of sunburns since they are manageable, hence forgetting their long-term impact associated with skin cancer later in life.
Considering the high costs of cancer treatment and the rates cancer is claiming lives, sunlight protective gear remains your only refuge.
Ensure you put on a quality UV fishing shirt with the highest UPF rating of 30 or more before going out for long hours over water under the scorching sunlight.
Add on a cap, sunglasses, and a face mask to enhance your protection.
Prevents Skin Irritation
Anglers need to remain still with the hook at some point to lure the fish. Skin irritation caused by sunlight may not give you that peace.
UV rays cause skin itching after long hours of sun exposure.
Remember that inappropriate fabric may make skin irritation even worse.
A quality long-sleeved UV fishing shirt ensures you remain relaxed and feeling great throughout your fishing session.
Lowers Dehydration
If you plan to go for long fishing sessions, it's essential to carry enough drinking water to keep you hydrated throughout.
To optimize that and lower your urge and distraction of constant sipping, consider wearing a high UPF long-sleeve fishing shirt.
A long-sleeve fishing shirt forms a layer between the sun and your skin, thus lowering body water loss through evaporation.
Reduces Skin Tanning
Tanning occurs when your skin turns darker than normal after spending long hours in the sun.
Slow melanin pigmentation causes the pilling on top of the skin layer, particularly on the arms, legs, back, and face.
As a result, besides wearing a UV fishing shirt, which should always be long-sleeved, a face mask, breathable pants, and sunglasses are essential additions to your UV protective gear.  
Skin tanning due to sun exposure may leave your skin either darker or light skin for some people.
Other Benefits of a UV Fishing Shirt
A proper UV fishing shirt offers more than just protection against UV rays.
Here are more benefits to wearing an appropriate fishing shirt or overall bodily protective fishing gear.
Stain Protection
High-quality fishing clothing have inbuilt features to protect against stains such as fish blood, worm slime, or fish guts from soaking your gear.
Such clothing doesn't prevent staining per se. Instead, the stains wash off easily, leaving your clothing looking clean and new all the time.  
Bug Protection
Cruising over the waters exposes you to more debris from the wind and other bugs found in the water bodies.  
Horseflies, mosquitoes, gnats, among other water flies, can be a nuisance while fishing.
Your arms, legs, and other open areas may be the perfect spots for such flies, which may cause a distraction while pulling off a heavy catch from the waters or adjusting your position while hooking a large fish.
To combat such bugs, you may need a long-sleeve fishing shirt with a hoodie and possibly a netted face mask for easy breathing.
Water Protection
Getting wet is part of fishing or any water activity.
But, you can prevent excessive soaking with the proper clothing.
High-performance fishing shirts use nanotechnology on their fabric that helps with moisture in multiple ways.
First, any splashes of water form bubbles on the fabric and drip off without exposing your skin to moisture.
Water splashes will also dry out quickly without you even noticing.
Additionally, the material cannot soak even in excess splashes of water caused by pulling a heavy fish or net from the water.
Lastly, the material will not absorb any sweat from your body.
Therefore, you'll remain cool and refreshed throughout without any worries of ever having uncomfortable sticky, or sweaty skin.  
More benefits of using an appropriate UV fishing shirt also include.
Prevention from visible premature early skin aging
Safeguarding the immune system as repeated exposure may destroy cell antigen under the skin epidermis layer, affecting other body parts.
Helps maintain an even and natural skin complexion
Important: To optimize your protection against UV rays when going out for long fishing sessions, consider using sunscreen protection on your face and other parts that may remain exposed.
How to Choose a UV Fishing Shirt
Understanding how UV protective shirts are designed is integral to choosing the best clothing for your water activities.
Below are important guidelines when shopping for a UV fishing shirt.
Check the UPF and aim for a 30 to 50 UPF rating
Polyester and nylon materials are the best for protecting against UV rays. Silk and wool are moderately effective, while cotton, hemp, and rayon offer the least protection.
Long sleeves are the best since they cover most of the body.
Consider the print type on the shirt. Screen printing and heat transfer can make parts of the shirt very sticky and hot. Dye sublimated fishing shirts are the best options as they don't crack or fade plus they add no extra texture.
Note that dye sublimation is a gasified process; hence it does not interfere with the shirt pores or clog the weaves on the fabric. The fabric stays breathable and unhindered.
Consider a hooded shirt for complete protection of the entire head. If you can find one with an extended porous face mask, the better.
Final Thoughts
Many different companies manufacture varying UV protection fishing shirts, from the basic UPF gear to quality polyester fabric.
The American Fishing Tackle Company (AFTCO) advocates for high quality gear with a UPF rating of 30 and higher.
The focus should be on performance, endurance, and quality. Polyester and nylon are the best fabric for a UV fishing shirt.
The moisture wicking technology, athletic stitching, stain repellent features and antimicrobial properties will guarantee any angler a seamless fishing experience for as long as you may desire.