Fishing, whether for money or as a sport, is quite fun and exciting. But as you are waiting on your boat for hours with nothing on the hook, boredom starts to kick in. 
And if it is your livelihood, you might not want to waste your valuable time remaining still for your prey to get caught by itself. Does smart work rather than hard work ring a bell? A fish finder is just the thing you need to get started. And now you will get to know about the best portable fish finder.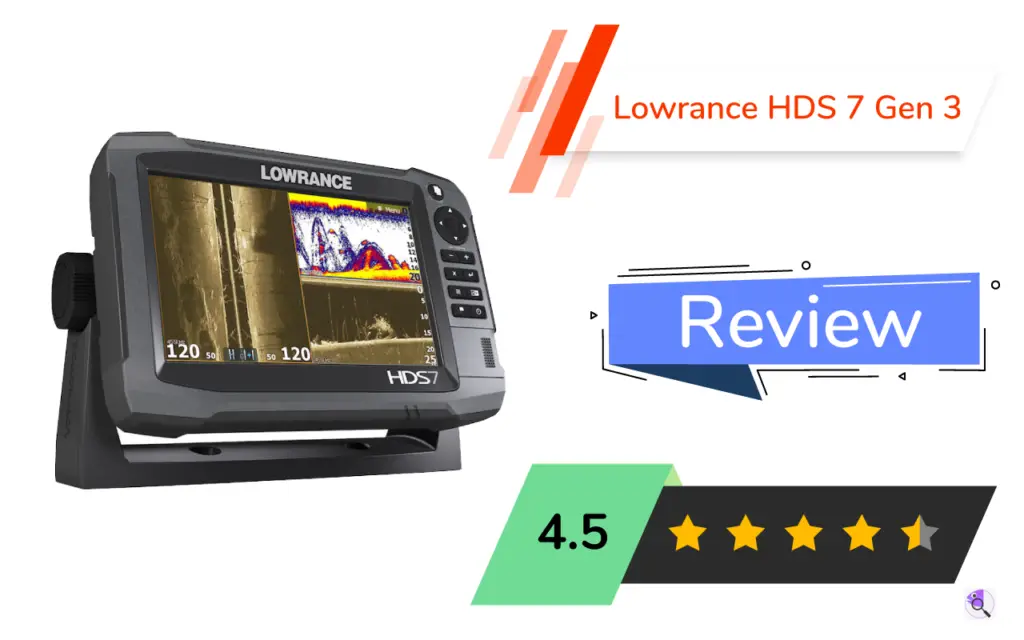 Lowrance HDS 7 Gen 3 is one of the best fish finders available at a very affordable price with all the features required to get the fishing done.
Also, we will look at the special features that it has to offer. And its friendliness with the user for which it is being bought nearly by all the fishermen and the anglers (sport fishing).
Specifications
Display size: 7in./178mm. (16:9) wide screen
Display resolution: 800×480 pixels, WVGA color, and LCD backlighting
Structure Scan (side imaging): 180- degree plane vision
Live Mapping: Auto-chart live, Hardness and vegetation layers (All models)
GPS Antenna: Internal 10Hz ultra-high-sensitivity WAAS + EGNOS + MSAS
Background Map: World Reference Background Map
Waypoint Storage: 5000
Routes: 200
Echo Sounder Frequencies: 450/800 kHz, 40-60kHz, 85-145kHz, 130-210kHz (CHIRP), 50 kHz/83kHz/200kHz
Transducer Type: Multiple selection Lowrance and Airmar
NMEA output: NMEA 0183 and NMEA 2000
Power Supply: 12 vDC (10-17 vDC min-max)
Internal Memory: 7.8 GB
SD Card Slot: Two SD Card slots available up to 32 GB
Crucial features of Lowrance HDS 7 GEN 3 that sets it apart
The best ice fishing fish finder has some unique features that need to be mastered well before jumping straight into fishing. It got some ravishing reviews over time. It is a high investment, so we will guide you through some salient features to understand its function and determine if it is the best fit for you. Its customizable mapping is a huge attraction for the anglers, which cannot be ignored at all. Let's find out more about this product.
?️ Display
The Lowrance 2-4x review has a wide (16:9) 7 inches/178mm. The screen which has 800×480 pixel that provides sharp viewing angles. The multi-touch improved Lowrance interface with a touch screen allows lightning-fast fingertip access to all HDS features.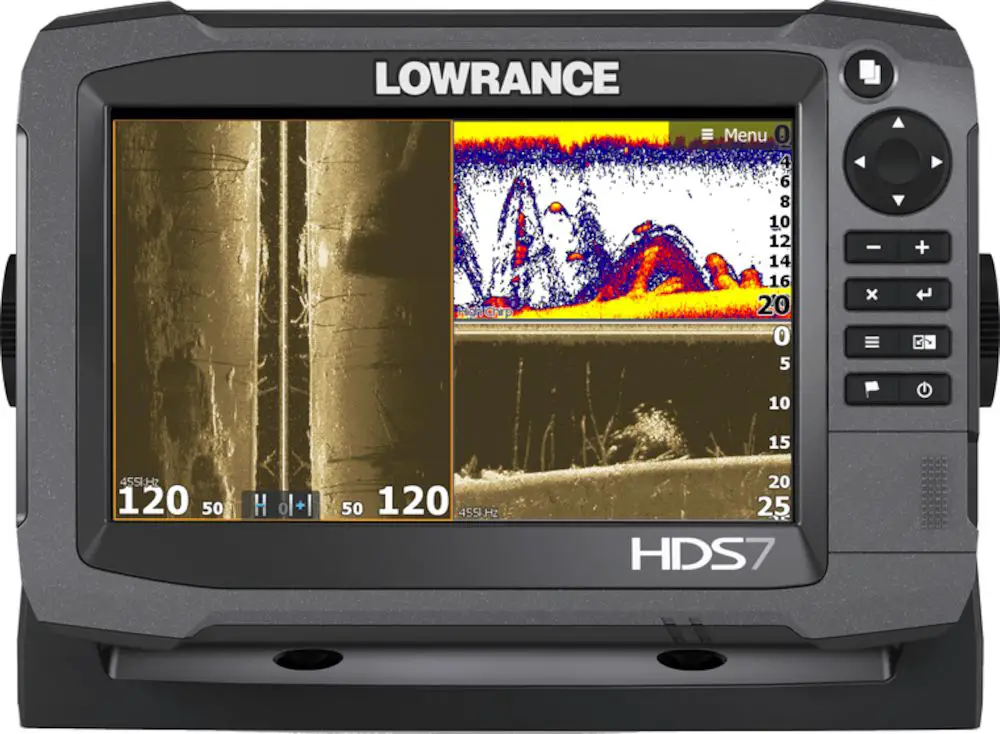 The WVGA color TFT LCD makes it easy to use even in the very sunny days or darkness with its LED backlight and adjustable display.
? Design
After using the Lowrance HDS 7 Gen 3, you have to admit that you have never fished like this ever before. With HDS, it is now even better with a sleek, fast processing, newly designed, and best-ever built-in suite of HDS navigation tools. The wide range of services by it is unmatched by any other fishfinder.
Despite having loads of features, it is quite easy to access all of them within a few seconds. Even the newcomers can quickly grasp the functions of this device. Moreover, one can display up to three screens at once for viewing different images. Isn't that an amazing feature for beginners?
Sonar
The CHIRP sonar used in this Lowrance HDS 7 Gen 3 fishfinder provides clear pictures of the underwater realm. It is also very target sensitive.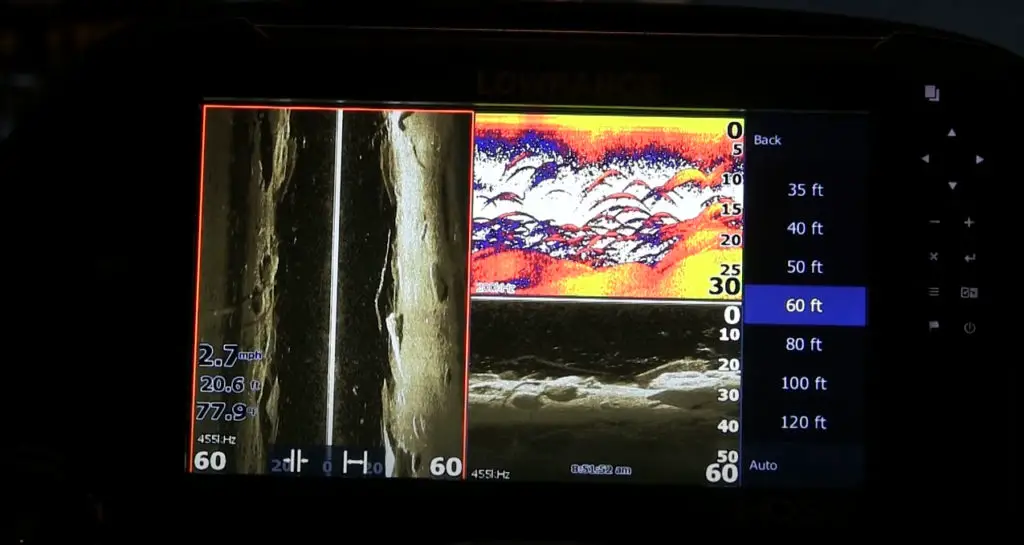 The StructureScan in this device shoots out sonar beams undersea, which helps you to get vibrant images. 180-degree view of the side imaging is better than the down image that gives only what is below your motorboat.
?️ GPS system
The GPS not only helps to navigate from one point to another but also have several hacks in it. Unlike any other fish finders, it can program up to 200 routes and 5000 waypoints. Waypoints are very useful as they mark down the locations where you found lots of fish.
It also has a jaw-dropping cloud-enabled feature that enables you to download maps from anglers close to you.
? Wireless
This device is convenient for users due to its built-in wireless connectivity. If someone wishes to use their personal gadget to monitor, they can put the accompanying screen into rest and put their own phone or iPad by installing the Lowrance app to work. Basically, it is almost wireless. But it needs to be plugged into a power core.
Catching up with transducers or being notified about software updates and new routes and maps are handled through Bluetooth and Wifi. This makes it easier to keep the device up-to-date, which is the foremost necessary since waves and tides change the course of fishes from time to time.
Compressed High-Intensity Radiated Pulse
In short, CHIRP. CHIRP imaging is such a technology that uses different frequencies to create a very detailed picture of the underwater environment. Actually, only one frequency is used, but in this Lowrance HDS 7 Gen 3, CHIRP is used so that multiple frequencies work at once, and the best clear image is provided in front of you. It also assures that you don't have to dig much deep around your boat.
Side Imaging and Down Imaging
Side imaging or Structures can, as you may call it, increase the scan range around your water-boat and gives you a 180-degree vision to understand your location in the water. You surely don't want to miss any good hogfish or Blue Marlin around you.
DownScan or down imaging is the perfect opposite of side imaging.
? Memory and SD Card facilities
The fish finder comes with an internal memory of 7.8 GB, which is enough to start with. But having more space will allow us to save more maps and routes even when we are out of the waterbody. With its dual SD card slot, you can extend the storage up to 32GB.
Pros
7-inches screenSplit screens
Multi-touch
CHIRP imaging
Ease of use
Advanced Sonar
Wifi
Hotspots
Navigation
Pre-loaded maps
Cons
Weather Radar unavailable
Works only within the US
Bunch of features
GPS not as functional as commercial fish finders.
Who should use Lowrance HDS 7 Gen 3?
This is a highly advanced technical gadget. Beginners might face a little difficulty using this as it is devised mainly for serious anglers. The basics are quite easy to grip, but one must have previous knowledge of using fish finders to perform with it.
As it has wireless connectivity, it helps fishermen who fish off kayaks work in ease. It is quite simple to deploy, and so doesn't take much space. Also, it is fully waterproof.
Our ratings – How much did the Lowrance fish finder score?
Boasting bigger screen size as compared to its competitors, the fish finders from Lowrance comes in a plethora of sizes. Whether you have big, average, or small hands, Lowrance has got you covered with just the right size.
The Lowrance fish finders come equipped with all the necessary functionalities along with the high-definition system multi-function display for you to spot your fish on a bigger and better screen. 
We have tested some of the most popular fish finders from Lowrance, and after much thought, we have reached to a conclusion where we can share our unprejudiced ratings on this device.
Display: 4.2/5
Lowrance is one such name in the fish finders' industry, which manufactures devices with screens as small as 4 inches to as whoopingly large as 16 inches. 
Although the resolution of this screen is not something extraordinary, they are bright enough to be visible clearly under both the extremes – direct sunlight or no-moon night. The screens' waterproof features and smooth touch sensitivity are also commendable along with the sharpness of the displays.
Sonar: 4.5/5
What's good in a fish finder if it does not have powerful sonar? Lowrance fish finders come equipped with state-of-the-art CHIRP sonar technology, which makes the devices no less than a "fishing-magnet." The precision of the sonar system in these devices was impressible, as identifying a single fish from a group worked seamlessly.
GPS capabilities: 4.7/10
We need GPS navigation to drive our cars on the streets, and when it comes to going out fishing into the waters, the GPS functionality becomes even more crucial. The Lowrance fish finders enable you to program up to 200 routes and 5000 waypoints. 
Some of the Lowrance fish finders also come equipped with the "GoFree" premium feature that enables you to access the cloud easily. With the "GoFree" feature, we were able to download maps to our fish finders from nearby users effortlessly. 
[wp-review id="235″]
Bottom Line
If you're quite a serious angler and very willing to make an investment into your sporting success, the HDS 7 Gen 3 is a great choice for you. It's simple to install and will definitely increase the amount of fish that end up in your boat.
While it's not a good option for beginners or anglers outside of the US, this device is undoubtedly top-tier in terms of advanced technology, usability, and special features, making it an easy recommendation.
Don't hesitate to do some serious research before purchasing this device; it's not cheap. Hopefully, this review gave you a little insight that will make your decision a little bit easier.