Buying a new fish finder can be an intimidating task, particularly for skilled anglers. In reality there is no one 'best fish finder' and there will never be. There are thousands of models fabricated every year and every model is best at its place.
 If you are looking out for a fish finder for your boat then you will need to consider two of the top-notch brands which are Hummingbird and Lowrance. Debating about these two brands is a favourite of fisherman as both are fierce, and claim to be better than the other.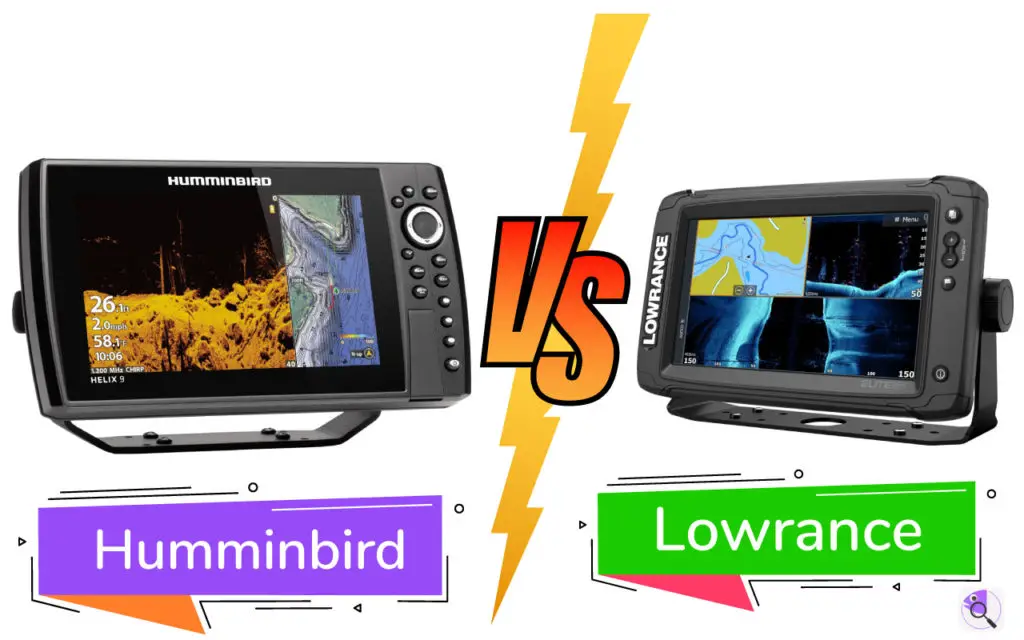 But the main question in the world of best portable fish finders is ''Which product is a better choice? Hummingbird or Lowrance?"
Unluckily, the whole debate about Hummingbird and Lowrance is endless. There is no particular choice and it depends on one's preferences. If you search for some discussions about the two brands you will find both Hummingbird and Lowrance have their die-hard fans. Although both brands have their pros and cons, reliable customer support, and multiple model types.
However, there are certain benefits related to each brand which I'll be going through. Some of you may stick to your preferences but hopefully you will get an idea of what each brand features that will surely help you in making your choice of the best fish finder.
About HummingBird Brand
 From finding your catch to tracking your GPS spot, from aglers to large boats; Hummingbird can help you in everything you need for a quality fishing experience. Hummingbird fish finder was the first innovative brand to produce the use of the latest technology making it one of the best fish finders in the market.

The company was the first to launch the waterproof echo sounder sonar system, the first foremost to introduce LCR screen (soon after advanced to latest LCD screens) and also the primary one to use the 360-degree sonar technology.
The best hummingbird fish finder brand's keenness to try new technologies and remarkable designs have attracted many fishing lovers with their capability to provide with some of the exceptional products.
Feature Highlights
No place to hide:
With Hummingbird brand's MEGA side and down imaging plus an innovatory 360 imaging, fish have no place to hide.
Superior Sonar System: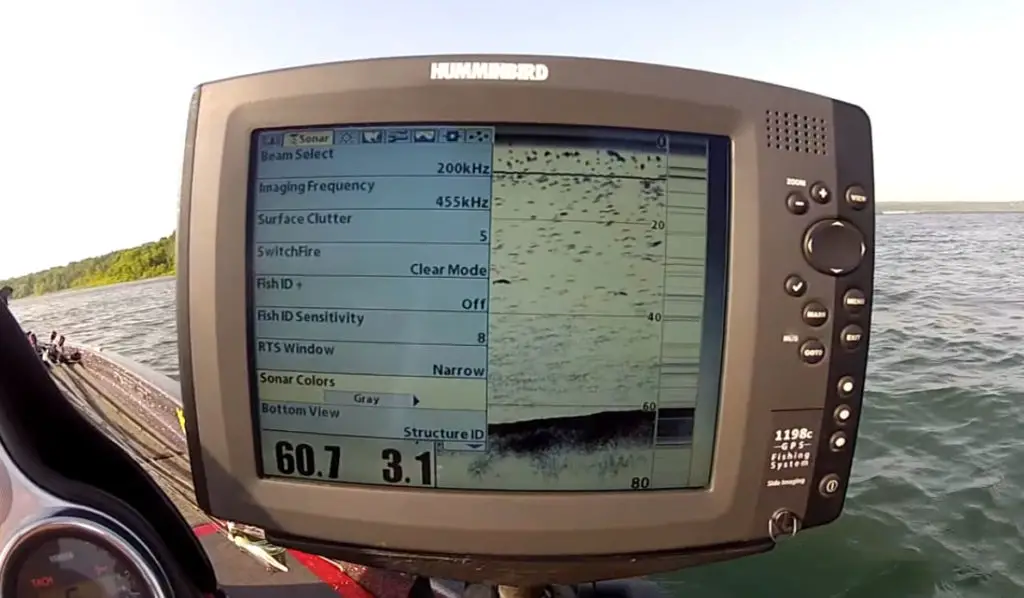 Using the Humming bird's 2D sonar, you can easily locate more fish. From  Dual Spectrum CHIRP to SwitchFire and Dual Beam, they make use of all advanced technologies to give you the best fishing experience.
Find the fishing spot:
The best GPS fishfinder has top-of-the-kind features which will fetch the detail, accuracy so as not to waste time fishing in unproductive water and find the finest fishing spot quickly.
About Lowrance Brand
Since the inception of this brand, the Lowrance fish finder has been a champion in marine technology. The brand has created a variety of fish finders along with sonar systems. It is counted among the best fish finder developed so far. Making the use of Broadband Sounder Technology the brand aims to produce better products every year.

The best Lowrance fish finder uses the latest trends and imaging techniques like Side, Structure, and down scan imaging easily which makes it easier to find fish underneath the water. Possibly, HD multifunction screen has been their greatest innovation so far. The company products are best to locate and find open-water fish like bait and game fish etc.
Their rates are less as compared to their competitors. For any angler looking for a  small fishing unit, they design ideal small devices.
Feature Highlights
Auto-tuning Sonar Technology:
The ground-breaking Lowrance fish finder features auto-tuning sonar system and phone-like options offering you more time doing fishing and not wasting time dealing with the settings.
Broader sonar coverage:
This fish finder provides a broad-angle CHIRP sonar offering you twice the coverage of conventional fish finders.
Genesis Live Maps:
Lowrance is the best fish finder with maps offering simple navigation using a GPS plotter that permits you to add waypoints, follow trails, and navigate.
Humminbird vs Lowrance – the features' battle
Humminbird and Lowrance are undoubtedly the top-notch brands in the ocean of fish finders. Hence, let's run a comparison test to find out which brand aced the "features' battle."
Technology and innovation-
When it comes to innovative technology Hummingbird undoubtedly surpasses Lowrance. The former was the first one to launch 360-degree sonar and side imaging as well. Also the side imaging technology by hummingbird is more budget friendly with models like Helix-5 SI available for less than $500.
Lowrance, on the other hand, did not correctly balance technology with its price tag. The discrepancy is visible in the following manner:
The smaller units of Lowrance come packed with the newest technology but sports a smaller screen size.
The larger units, contrarily, sport a bigger screen but do not run on the latest technology. These units are also labeled with a higher price tag for just a few extra inches in screen size.
As anglers, we always prefer to use a device that has a balanced cocktail of bigger screen size, affordable price, and state-of-the-art technology, but this seems to be absent in Lowrance fish finders.
Design and Size:
In terms of size Lowrance has more screen sizes and models to choose from. Promising anglers with a variety of smaller units meant for personal use. On the other hand, Lowrance also designs bigger units for professional needs.
Comparatively,  Hummingbird has a smaller gap. They offer fewer series but their products follow a different direction. The brand concerns more on the latest technology and you will mostly find top-end units that provide multiple types of imaging and technologies required for a better fishing trip.
Pocket- friendly:
Talking of price, Lowrance has the majority models in the lower price range than others. Though they have a heavy stock of premium fishing devices there most of the fish finders are low in budget, making it the best choice for anglers who need a compact or mid-sized unit without investing a lot of money.
Hummingbird fish finder has the highest price tag as compared to Lowrance because there most of the models come with a 5-inch size or more. Also, their biggest models are packed with amazing features and ports. Although they have many pocket-friendly mid-sized options as well, it seems like they are mostly inclined towards premium products.
Number of products:
Flooding the market with a plethora of products varying in sizes and prices, seems to be the game of Lowrance. Whether you are a weekend angler or a professional, Lowrance has a product that will suit your need. On the other hand, many anglers, especially beginners, find it overwhelming to choose one from the lot due to a massive number of products.
Based on the number of products Lowrance has, Humminbird definitely runs behind. The Humminbird series focus more on quality than quantity. This brand has a different priority and always makes it a point to deliver state-of-the-art technology with their fish finders. The limited number of options also makes it easier for users to pick one without being besieged.
User friendly:
While installing and using a fish finder, the last thing that we want to do is sit down and read its manual. The following 3 are the yardstick that measures how user-friendly a fish finder is:
Setting up the device quickly
Switching between tools and options,
Begin to locate fish
Thanks to the easy accessibility of the devices, both the brands perform exceptionally well in this segment. The learning curves have been observed to be low for both devices. Whether you use a Humminbird or a Lowrance fish finder, you will never be confused about its usability. Hence, learning the functions of any of these devices will take minimal time.
Overall features:
As far as the general characteristics are concerned, Lowrance and Humminbird set up for a tie. Regardless of which brand you choose, you will not be disappointed by missing out features like traditional sonar, multi-panel displays, CHIRP, dedicated GPS, side imaging, and down imaging. The difference is noted when you delve deeper.
By offering a wide range of products, Lowrance has a more extensive canopy as compared to Humminbird. You also get an ample number of budget-friendly options with Lowrance. Here the technology is compromised by keeping their price tag low. On the other hand, Humminbird comes out with fewer models and is pricier than its competitors, while boasting of state-of-the-art technology.
Five models of Humminbird Fish Finders
Have a look at some of the consistently highest selling models of the best hummingbird fish finders that speak for themselves. This fish finder brand boasts all the bells and whistles, you are assured to find one customized exclusively for you.
Following are the top 5 humminbird fish finder models
1. Humminbird 409920-1 HELIX 9 Sonar GPS Fishfinder
2. Humminbird 409960-1 HELIX 10 Sonar GPS Fishfinder
3. Humminbird 409730-1 ICE HELIX 5 Sonar GPS Fish Finder
4. Humminbird 409900-1 ICE HELIX 7 SONAR GPS Fish Finder
5. Humminbird 4087001 PiranhaMAX 195C Color Dual Beam Fishfinder
---
Five models of Lowrance Fish Finders
Talking about quality fish finders, Lowrance is a great choice. Having said that, let's have a look at some of the top-of-the-line models that the best Lowrance fish finder has to offer.
Below are the top 5 Lowrance fish finder models
1. Lowrance Elite-7X Chirp Fish finder with Transducer
2.  Lowrance HDS-7 Gen-3 Fish Finder
3. Lowrance Hook-3X Sonar Fish Finder
 4. Lowrance Elite-5 Ti with Chartplotter and Downscan
5. Lowrance HOOK2 7 – 7-inch Fish Finder with Triple Shot Transducer and US Inland Lake Maps Installed
---
Best Fish Finders – FAQs
Q. Are Fish Finders really helpful?
A. The latest fish finders have incorporated GPS mapping, radar, and compasses. They help you in finding fish in the water as well as guide you to find your way. Thus, making them a great device for less visibility underneath and above water.
Q. For how long does a Fish Finder last?
A. If you buy a high-quality fish finder it will last up to 5 years based upon how you maintain it. However, it is suggested to upgrade your fish finder once it is above 4 years old. This is the right time to seriously thinking about replacing your fish finder.
Q. Does a Fish Finder work out of water?
A. A transducer will never work outside water. There are methods to install them inside the structure but the air must be barred and the structure has to be in the water before the system starts working.
Q. Can you determine the size of a fish using a fish finder?
A. Nearer the fish is to the transducer, the thicker the signal will be displayed on the screen. Therefore, when you find a bold signal on the screen, chances are there is a big fish further to the transducer or a tiny fish near to the transducer. However, if the vertical distance between the fish and the transducer is small, certainty increases.
Q. Are fish finders water-resistant?
A. Yes, all fish finders are water-resistant. However, few fish finders are water-proof as well. Fish finders that are only water-resistant cannot survive underwater.
Q. Can I detect the water temperature with a fish finder?
A. Certainly, fish finders display temperature. Although this feature may not be available in standalone fish finders. Full network system fish finders calculate the temperature.
Q. Is it possible to sync my fish finder with my Smartphone or Tablet? 
A. Many fish finders available in the market are compatible with mobile devices and tablets. Yet, there are custom-designed fish finders with a variety of features. With the customized best fish finder apps, you can calculate various parameters including temperature and other atmospheric conditions. Few of the custom fish finder applications can also make recordings.
Q. What size of a Fish Finder do I require? 
A. You can buy a big screen or a small screen fish finder as per your need. Screen sizes usually range from 3.5 inches to 16 inches. Buying a bigger screen will let your fish finder to gather more information at once. To have a nice mid-sized screen size, you can choose a 9-inch screen.
Best Fish Finder Conclusion – Editor's Choice Winner (Hummingbird HELIX 5 SI GPS)
Despite the fact that both the products provide plenty of features, but our editor's pick award for the best GPS fish finder goes to Hummingbird Helix 5 SI GPS. The helix 5 series provides anglers a wide range of options to fit any requirement without emptying the pocket.
Speaking of the versatile hummingbird fish finders they are matchless in terms of functionalities and values and no other manufacturer can beat them in this. The three major choices available are Standard sonar, Down, and side imaging models. Each of them is based on a similar remarkable platform.
If you are searching for a fish finder brand with all the bells and whistles, then Hummingbird is the one! The Helix 5 SI by hummingbird features a vibrant 5-inch display with a fantastic vivid LED backlight to ensure easy viewing out in sunlight.
The display creates absolutely a clear and crisp picture. Along with that  a broader landscape orientation permits for easy side viewing of any of the imaging features. The dynamic transducer sporting CHIRP and temperature control make all phases of imaging a breeze and no fish will be secure from being found.
It offers anglers with proficient quality imaging and prevents unproductive fishing to make the most of the time spent on the water. Hummingbird has the most sophisticated technology than the competitors but totally worth the money spent thus making it a well-deserved best fish finder.